The one-week long serendipity arts festival already started at Goa. It's the second edition of the festival which commenced on 15th of this month. The best part about 'Serendipity' is that it's a festival that is open to all. There are around 10 venues on the banks of river Mandovi and all of it disabled friendly. Not just with wheelchair ramps, but with the braille type of most of the artworks. How often do you get to see something like this? It's said most of these artworks are commissioned just for the festival. There are in total 70 works. Let's look a bit more into it so that you don't miss out on anything.
Music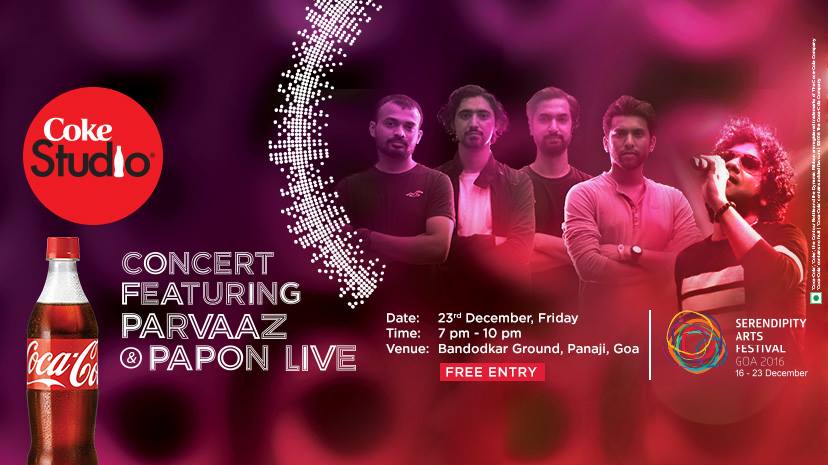 Well to watch out for is a coke studio session, a sunset sail through river Mandovi, listening to Indian Classical, People's music which will stage songs of resistance from across the country, Sonic city- an installation that brings to you the sound of Delhi. Yes, you read right, the sound of Delhi- a combination of music and street noise. And the best part of all is Dhamaal, curated by Aneesh Pradhaan. In this show, 60 Drummers perform the traditional beats from across the country.
Dance and Theatre


Padma Shri award winner Choreographer, Astad Deboo's dance performance, Rhythm Divine 2- River Runs deep is one performance to look out for. This contemporary dance show is a group effort of the choreographer as well as the Pung Cholom drummers of Manipur. It depicts the insecurities in daily day life of people in conflicted areas. Dark orders, a play by Neelam Man Singh Chowdhary, explores the shattering outcomes of migration through the story of Saadat Hasan Manto. Other performances to watch out are Bandish, Muktidham, and Sari: The unstitched.
Photography and Art


"Master Ji", is one of the highlight photo exhibition in which one could explore the life of Bollywood Choreographer Saroj Khan through photographs. The photographs are by Dayanita Singh and Mark Morris, a contemporary dance expert from the United States have overseen the project. "A slow violence: Stories from the largest river basin in the world" is exploring the life and culture of people along the Ganga Brahmaputra basin. It is the imagination of photographer Arati Kumar Rao and is a photo story. The viewer can experience the life that the photographer did through this particular exhibition, which is what makes it spectacular. It is the end product of her three year long journey through the place.
"The Ground Beneath My Feet" is a visual art show which would stage performance art by numerous artists around the world, and Vishal K Dar is the misenscene director. The entire show is about travel, migration and the changing scenario of human relationships in a technologically driven world. "Mapping Mapusa Market", an illustration by Orijith sen is also to look out for.
Food


"Brinjal Cart" is expected to give one with a nice experience as it showcases the different dishes with Indian Brinjal. Another to wait for is the "crab xacuti" with Australian MasterChef finalist Sarah Todd
Craft


There are 3 major craft exhibitions at Serendipity. Most of them focuses on Goan art and its intricacies. To look out for is "The Pano Bhaju: Influences and Interpretations" by designer Wendell Rodricks , that brings garments from North East and Philippines and shows its influence on tradition Goan